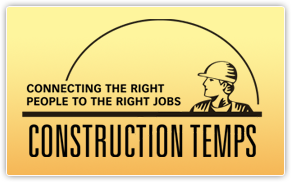 About Us
Construction Temps has served the Southern California construction industry for over 20 years. We have been providing quality staff to construction industry leaders in Southern California longer than many other staffing firms. We believe that creating a close relationship with your company is essential to helping us understand your specific needs and requirements. We strive to provide one on one personalized services and support for both our clients' and employees. With this special approach we are always "Connecting the right people to the right jobs."
We at Construction Temps are well experienced with the requirements of construction staffing. We diligently manage the administrative burdens of recruiting, hiring and employing tradesmen & construction laborers. We understand that your company needs to stay focused on what you do best, so we work hard to insure you get optimal service.
At Construction Temps we recruit the best workers and maintain an extensive pool of qualified trades personnel. We have many professionals ready and prepared to go to work on a temporary basis, or on a long-term arrangement. And we consistently fill all our job orders reliably and quickly.
So give us a call anytime and we will be happy to assist you and your company in any way possible.