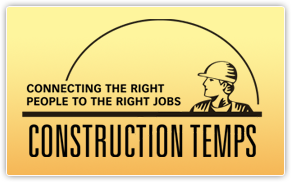 Contractors
Construction Temps strives to provide the most qualified professionals for your company. We work hard to find the most impressionable employees for the job.
Construction Temps is a direct representative of hundreds of prescreened, qualified skilled workers in all trades (Electricians, Carpenters, Drywallers, Masons, Plumbers, Painters, Laborers, Operators, Etc.) who are available within 24 hours notice. We will save you time and money on recruiting and hiring costs so that you can meet fast approaching deadlines, and bid on larger projects. We manage the advertising, recruiting, screening, and hiring so that you can have the flexibility to concentrate on your projects.
We Recruit the Right People
Construction Temps does the recruiting for you– with extensive reference checks on each employee to ensure that the integrity and value of our field workforce is upheld through every phase of the customers relationship. All you have to do is call us and we'll dispatch the right workers for you. Whether you need one worker, a full crew, or even a foreman or two, we can help you finish your projects on time.
We can assign qualified personnel when you need them to get your job done on time.
We issue the Payroll. (Federal and State taxes are paid)
We provide Worker's Compensation Insurance. State Unemployment Insurance is also covered.
All employees are documented in accordance with INS requirements
We bill you according to an affordable hourly rate. And contract terms
We have no hidden fees. And our rates include employee wages and all other charges above.
If you are unsatisfied with our employees for any reason call us within the first two hours, we will replace the worker at no charge to you for those two hours.
Your Benefits
Improve your overall efficiency
Reduce your overhead
Increase the number of projects you can run
Improve your cash flow
Reduce your worker's compensation insurance
Reduce paperwork
Allow you to spend your valuable time doing what you do best
ULTIMATELY INCREASE YOUR PROFITS
We appreciate your interest in our services and look forward to assisting you in any way possible. When you consider Construction Temps you'll get personal one on one service with efficient and professional results.